Oasis Manila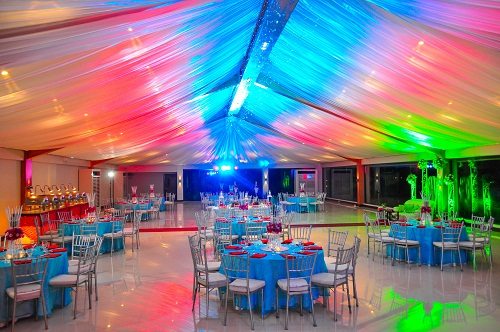 The Oasis is a garden wedding venue located along Aurora Blvd. in the City of San Juan, Metro Manila, which features three venues: the Pavilion, the Orchard, and the Verandah.
The Orchard is an air-conditioned function room good for a maximum of 200 guests with a magnificent view of the whole place ideal for conferences and intimate celebrations.
The Verandah opens up to a view of the Oasis garden below and an Al fresco balcony perfect for cocktail drinks for guests who wants to have a breath of fresh air. It can accommodate up to 350 guests, perfect for a semi-grand celebration. The Lobby is a spacious area for pass-around hors d'oeuvre for arriving guests.
The Pavilion, the biggest of the three facilities, has a capacity of up to 450 persons featuring a beautifully manicured garden for a fantastic wedding, an elevated stage with spotlights for the wedding band, and a choice to have your wedding reception al-fresco or air-conditioned.
Perfect for a garden wedding as well as a beautiful wedding reception, Oasis is a place where couples and celebrators experience their life's precious moment.
The Oasis
#169 Aurora Blvd., San Juan, Metro Manila
Telephone: (02) 721-4585
Mobile: 0917-8058049
Email: [email protected]
Website: www.oasismanila.com