There's Still Forever in Metro Manila
In our previous post, we gave you a list of venues around Metro Manila. There are many events places in Metro Manila and we are here to help you find one for your dream event. Here is the second part of our list Venues Around Metro Manila that is open for wedding and debut events:
Casa Real, located inside the Acacia Estates in Taguig City is a three-storey events venue that features historical appreciation and modern design. It was elegantly designed as DMCI Homes' tribute to the rich Filipino history and vibrant community living with its original narra and ipil flooring, ventanillas, sliding panels, and iron grills.
Function room and capacity: Solariega Function Hall (100pax) | Cuadrilla Function Hall (100pax)
The Loft at Manansala is a modish place where you can hold your customized events. With its elegant ambiance, it makes an ideal venue for formal parties. Located at the 38th floor of Manansala, The Loft boasts of high ceiling space and glass walls which enable one to capture the panoramic view of the city.
Capacity: 300pax
Address: 38/F Manansala Bldg., Plaza Drive cor. Hidalgo Drive, Rockwell Center, Makati City
500 Shaw Events Pavilion holds a spacious 725 sqm. ideal for your grand celebrations and corporate events. The whole pavilion is large enough to be able to accommodate up to 800 guests. It can also host smaller events using half of its pavilion (360 sqm.) for a more intimate setting.
Capacity: 750pax
Address: 3rd Floor 500 Shaw Zentrum, 500 Shaw Blvd., Mandaluyong City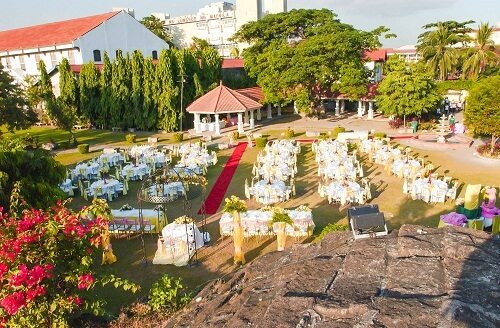 Baluarte de San Diego is an Al fresco garden venue which dates back to 1586, a perfect wedding venue for that traditional Filipiniana wedding. This venue is ideal for those who wish to have an outdoor wedding event with a touch of history and Hispanic culture.
Capacity: 900pax
A 1,091 sqm. ballroom, One Esplanade brands a modern state-of-the-art interior design for your special events and corporate functions. Casted by monochromatic shades of gray and accents of Armani gray wood veneer, Polished stainless steel inserts, Sand Blasted Glass Panels and Nylon backing carpet tiles from Barrington, it makes a sophisticated venue ideal for grand celebrations.
Function room and capacity: Coral A (350pax) | Coral B (350pax) | Pearl Hall (400pax) | Coral AB (700pax)
Address: One Esplanade Building, Seaside corner J.W. Diokno Blvd. Mall of Asia Complex, Pasay City
The air-conditioned Octagon hall boasts of a 250-seating capacity, surrounded by glass walls giving you a sense of openness without being bared to the brave elements of nature. The venue also features a Bridal Suite; an Al fresco pavilion perfect for cocktails or venue reception; a ceremony garden beside the Pavilion ideal for an intimate garden wedding ceremony; and a covered garden best for lounging before the start of the celebration without crowding the main entrances.
Capacity: 250pax
Address: Restaurant Row, BOOM Grounds, CCP Complex, Roxas Blvd. cor. Gil Puyat Ave., Pasay City
Cities Events Place is located at the heart of the hustle and bustle of Quezon City. This accessible and hotel-like venue is designed with modernity and can accommodate intimate celebrations to bigger events. Each function room is made to feel every guest relaxed and comfortable.
Function room and capacity: Gallery (50pax) | Bar (140pax) | Main Hall (180pax) | Deck (200pax)
Address: 30 Sgt. Esguerra St. Brgy. South Triangle, Quezon City
At the home of a historic film era sits an events venue that will surely bring a classic magic to your special occasion. Sampaguita Gardens Events Place features different function areas within a captivating garden perfect for that dream event of yours.
Function room and capacity: Hall B (100pax) | Hall A (150pax)
An ancestral house turned into events place is the charming Felicidad Mansion in Quezon City. Displaying elegance with its handcrafted furnishings and classic ambiance, it makes a perfect venue for your vintage-inspired event.
Function room and capacity: Venice (130pax) | Paris (150pax) | Venice & Paris (250pax)
Address: #2 Baler St. Cor. Roosevelt Avenue, San Francisco Del Monte, Quezon City
Now you that know where to look, you can contact us directly for more details regarding the venue. If you're looking for the right caterer for your event and still haven't found one, you can attend our FREE Grand Food Tasting by registering your name here. Check out also our blog for more related articles about venues and themes for your event!
admin
We are here to help you make your dream event possible.