5 Ways to Stay Relaxed on Your Wedding Day
It's easy for the bride to feel stressed out when the big day comes. Here's how to stay positive and relaxed so that you get to enjoy and remember the big day.
Make the week before your wedding a "no-stress" week.
Wedding planning was part of your daily schedule for such a long time, that it's hard to imagine life without it! Ease yourself back into normal life by declaring the week before your wedding a "no-stress" week. Aim to finish all the wedding details before then, and request your wedding planner to not contact you unless it's absolutely necessary. If anyone contacts you about the wedding, forward his or her concerns to your Maid of Honor instead. A week before the wedding is also the perfect time for your fiancée to have his bachelor party, since it's far enough from your actual wedding day to nurse a hangover.
Fix your bridal schedule the night before and coordinate this with your wedding planner.
Running through the events of your wedding day will help you imagine what will happen. When you imagine it, look at it in a way that everything will happen exactly the way it should. Give the schedule to your wedding planner to be executed.
Get a good night's sleep the night before.
One of the biggest reasons for taking the week before your wedding off to be relaxed is so that you won't feel too nervous or stressed out the night before the wedding. Getting a good night's sleep isn't just essential for the night before your wedding, but for every night. It helps you make better decisions; it puts you in a better mood, and gives you good health. Go through your usual bedtime routine, and say good night to your gadgets at least 15 minutes before you go to bed.
Focus on your schedule.
The biggest cause of delay during wedding preparations are those outside of your schedule, like well-wishers who want to give their congratulations, unforeseen traffic, and problems with suppliers. Whatever the delay, stick to your schedule and let your Maid of Honor deal with the problems. Be strict with your time with the photographer, videographer and hair and makeup artists.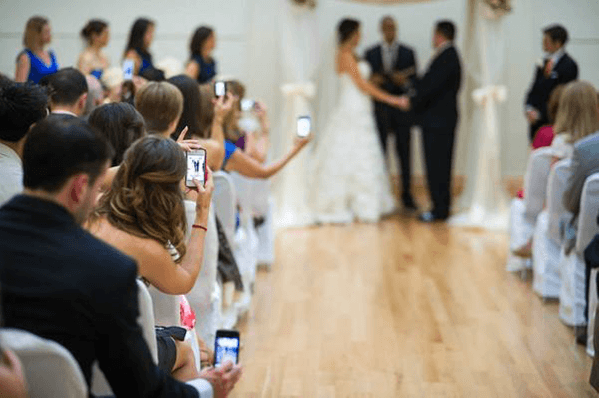 Make your area a no social media zone.
Give your phone to your Maid of Honor for safekeeping until the whole wedding is over. Give her strict instructions that no one in your hotel suite should take pictures or videos of any kind once they're inside the suite, since that can distract you from your schedule (or you'll be tempted to see what others are saying about your wedding!)
Be in the moment.
Some brides regret being more focused on how she looked like on the video or in the photos while walking down the aisle, rather than seeing on how happy her groom was to see her. Most brides don't get to eat because they're too busy participating in the games and the program. If you have trouble focusing on what's happening, remember why the wedding is happening in the first place—you're celebrating your love for each other, and that's what should be focused on.