CATERING SERVICES IN MANILA
Believe it or not, but Metro Manila is one of the most favorite location for destination weddings. Case in point: Intramuros
A wedding is just one event, however. With thousands of venues in Manila and nearby, a wedding as well as a debut, birthday, anniversary, product launching, family reunion, baby shower and more will never run out of venues to hold the event.
Venues in Manila
Some of the most popular events venues in Manila, particularly in Intramuros, are below.
An open garden, Casa Manila Patio is perfect for couples who desire a traditional wedding. It is located right across the San Agustin Church. Casa Manila Patios caters to one event per day.
Address: Casa Manila Compound, Plaza San Luis Complex, Intramuros, Manila
Baluarte de San Diego is another al fresco garden venue. Considered as Manila's oldest fort, it is an ideal location for traditional Filipiniana weddings as well as pre-nuptial shoots.
Address: Santa Lucia cor. Morallas Streets, Intramuros, Manila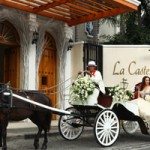 With Spanish-inspired interiors, La Castellana is the perfect venue for all occasions. In fact, it claimed to be the melting pot of celebrations. What sets La Castellana from the first two is that it is an air-cooled function hall.
Address: Cabildo cor. Beaterio Streets, Intramuros, Manila
Catering services in Manila
If you are wondering what must be done after finding the perfect venue, the next best thing is to go scouting for catering services in Manila.
Food is an essential factor in an event. In fact, the people anticipates the food you will serve at your event. They expect to eat some delicious food whether it'd be a full-course meal or all-day snacks.
For this reason, you won't serve them just any food—it has to be special and must suit the celebration. This is where the role of the catering provider comes in.
A catering provider can
Help in finalizing the venue
Visit the place for a site layout inspection
Provide guidance in choosing a menu
Customize the catering package
Provide onsite services such as venue decoration
We can assist you in finding the perfect venue for your celebration.
Please inquire to get the current rates and packages of this venue.